Body – Balance – Boldness: A sumptuous evening of ease, pampering, and nourishing wellness rituals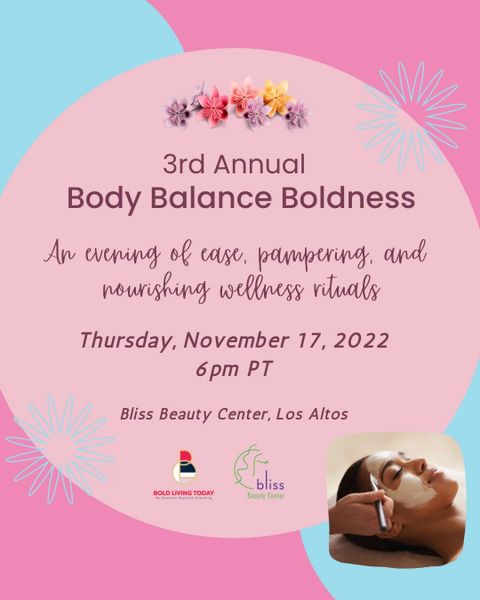 Description
Body – Balance – Boldness | A sumptuous evening of ease, pampering, and nourishing wellness rituals
Thursday, November 17, 2022 | 6:00pm – 9:00pm PT
The event is limited to 12 participants.
What if you could take a break – in the middle of it all – and enter a sanctuary of:
Calm
Bliss
Pampering
Creativity
Nourishment
and Boldness?
What would it feel like to take a break - and focus on yourself during the start of the holiday season?
How would you enjoy showing up to a carefully curated event that was purposefully designed for pure delight?
This is what the Bold - Balance - Boldness evening is all about!
Kanesha Baynard - creative lifestyle coach, speaker, and author - has curated a lavish evening designed to help you feel whole, nurtured, and vibrant as you enter the holiday season.


---
The Body – Balance – Boldness evening is designed to help you make space to focus on wellness rituals that fill you up and allow you to take better care of yourself.
Who should attend?
*Women (ages 21+)
Mothers
Caregivers
Basically, any woman who wants to dedicate time to explore key principles of radical self-care
*anyone identifying as a woman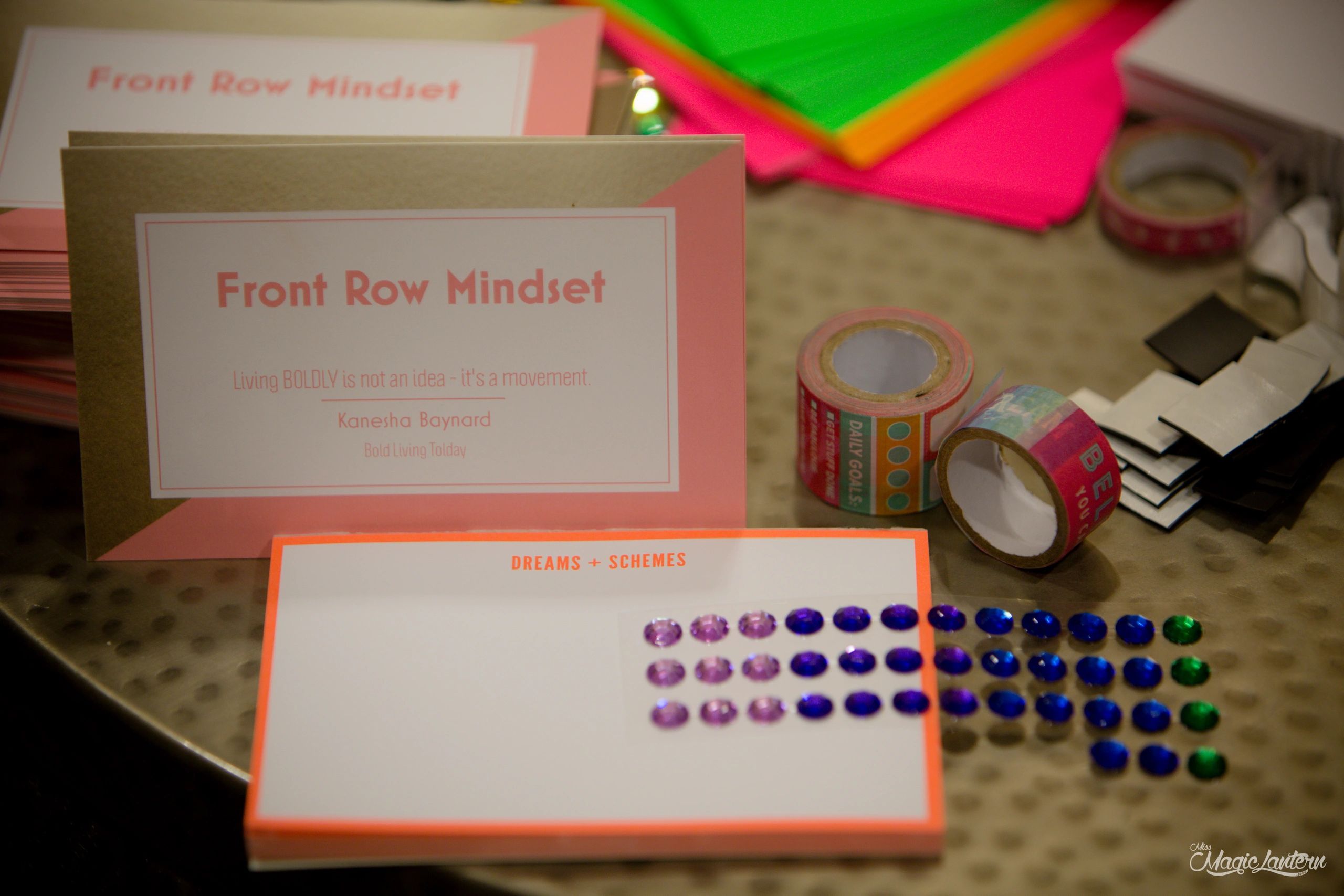 What should you expect during the sumptuous event?
Wellness workshop with Kanesha ($250 value)
30 minute massage, body scrub, or

facial ($90 value / gratuity not included)

Creativity materials ($25 value)

Healthy Snacks + Beverages

Event Kit ($50 value)

Relaxing & fun time with incredibly bold women

Other fun surprises!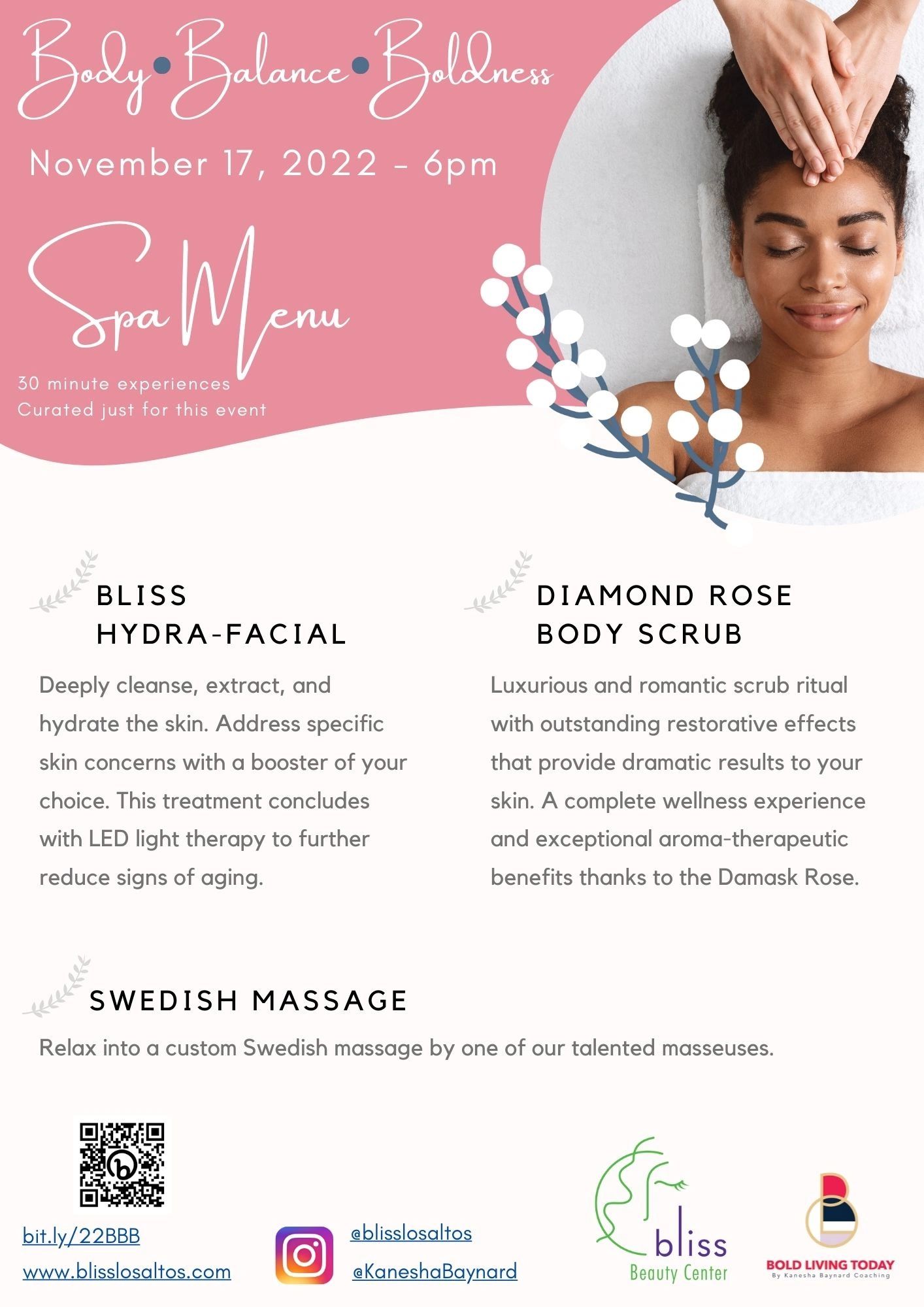 Investment:

$170person 

Program Schedule:


6:00pm:        
6:15pm:        
Begin Programming with Kanesha
7:15pm:        
Body Treatments

(guests on rotating schedule)
9:00pm         







2018 Bold - Balance - Boldness Event
---
Bold Feedback
Kanesha can totally change your life - the way you work, interact with friends and professionals, and views of your contributions to our world.   This is one of wisest and positive souls that has ever entered and transformed my "being"!  - Professor
Be ready to be entertained with plenty of interaction. You will not only learn new things about yourself but you will have fun doing so. Kanesha is an outstanding motivator who is knowledgeable, yet approachable. – Fitness Instructor/Entrepreneur
Kanesha can help you find balance in your personal and professional life, make a plan to reach goals that you may have been putting off or that you didn't really consider possible. You will find that you can set all of your thoughts, desires and interests free to explore who you want to be and where you want to go. She'll give you tools to plan out how to reach your goals, keep your focus and keep your vision!!  – Veterinarian

Kanesha is a well-established life coach who knows what's she's doing. She will help you in such a fun way you'll be so surprised it's that easy to make changes and learn new ways of thinking. - Florist/Entrepreneur
Kanesha was supportive, fun and wise. She helped me at a very low point in my life as I was negotiating a career change after a toxic work environment. She believed in me and helped me set realistic yet high goals for my next career. We discussed specifics such as negotiating salary, thinking outside the box and strategizing about work-life balance. Our sessions were fun - we laughed as she inspired me to be bolder and more authentic. It is now 2 years later and my income is 40% higher, and my happiness level is 2,000% higher. I have also lost 30 pounds as my life has come into more balance. Working with Kanesha was an important part of my transformation. -Scientist
Please be open to whatever needs you have and willing to explore whatever possibilities come up, this is how I view working with Kanesha. - Retired Educator
---
FAQs
Is my registration/ticket transferable?
Yes. Contact KaneshaBaynard@gmail.com to arrange this.
What is the refund policy?
We do not issue refunds.
I plan to travel to attend this event. Can you recommend a lodging locations and things to do?
Yes! Contact KaneshaBaynard@gmail.com and we will send an exclusive Bold Living Today travel guide to you.
What is the dress code?
Bold women believe in feeling good and looking good. Come casual and comfortable.
How can I add my company to your list of Sponsors?
For sponsor information, email KaneshaBaynard@gmail.com.