52 Powerful Questions: A journal and planning guide for creative entrepreneurs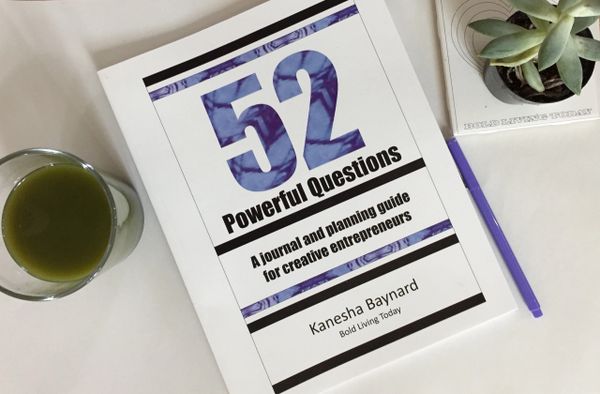 Description
Kanesha created this journal and planning guidebook specifically for creative entrepreneurs. There are 52 questions in this journal which allows you to capture your thoughts each week of a calendar year. You can start on any prompt you want. You do not have to go in chronological order.

The planning guides in this book are designed help you put your thoughts and ideas into action plan format.

pages 110.
Feedback on Kanesha's tools, events, and coaching.


As a public speaker and a coach I was interested in refining my marketing materials and infusing them with more creativity.  After talking with Kanesha about my offerings and the venues I speak at she quickly helped me to see how my promotional materials could be infused with more creativity, have a bigger impact, and create a brand image that I was proud of.  Any entrepreneur who wants to shake up their perspective and learn how to put better, bolder, and more interesting information out into the world should work with Kanesha, she is a creative force! [Kari, Denver]

Kanesha,
Thank you so much for doing the parent ed session this past Tuesday! I appreciate your heart and passion for supporting wellness in people through creativity. And, it was so enjoyable for me to watch the parents participate in your session and build their 'sanctuary.' As the parents were leaving, several of them expressed how glad they were that they came. Thank you for the time and effort—and bringing along all of your fun materials! —for that session. It would be great to do a parent/child session. Let's keep in touch and figure out ways to work together in the future. [Director of Community Connections, Palo Alto, CA]

I thought of you today because I decided to create and buy customized weekly to-do post-it notes online.  I will show them to you when I get them.  They look super cute and I think it may change my life. [Entrepreneur, Los Altos, CA]

Beautiful! Just beautiful. This was an excellent newsletter. I read everything and wanted everything. Well done Kanesha. Well done! [Consultant, San Diego, CA]

Thank you for the list of steps for communication. I forwarded to all 3 of my kids because I think you had some great advice to keep foremost in mind in our interactions with everyone. And last--I always appreciate your emails—thank you! [Workshop participant, Los Altos, CA]

Just gotta say, Kanesha, as a clinical psychologist I must say many of your instincts and advice are right on target and well presented. Not too much, not too little. [Elizabeth H., San Jose, CA]

Kanesha,
Good Morning, decided to get started on my 2018, what should I do and what do I like that I am already doing that is helpful for me. TADA. So using your reflective questions I am off on 20181! I do love your prompts-questions. You are such a thinker Lady, why am I surprised. Invention is the mother of necessity and growth is so necessary, they go so well together. So to say you are some "mother" is a compliment.Have a great day and continue to continue. Brava. [Retired educator, Denver]